During the recent Formula 1 tests in Jerez Sebastian Vettel, the new Ferrari driver, has been noticed walking around with a large black notebook, a sort of an oversized classic Moleskine. This has been pointed out as quite unusual for a Formula 1, and overall Motorsport, context. He is utilising the notebook intensively, apparently making notes about everything that he is going through during the time on track and off track, in pits and paddock, spent with engineers and mechanics. Reportedly at the end of the day he transcribes all of the data, information, observations on his personal computer.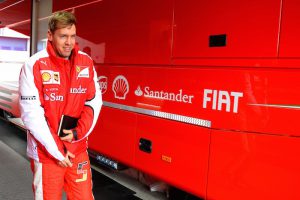 It is a systematic approach potentially overshadowing the work of track engineers and causing friction within the teamwork roles; more likely showing everyone the kind of determined meticulous approach he is choosing to bring back not only Ferrari to success but also himself after a surprising (after four consecutive world championship titles) somewhat dismal season he has had with Red Bull Renault last season.
A notebook and a pencil are also the trademark of Adrian Newey, the top technical mastermind Vettel has spent many years with at Red Bull. Pencil and paper are powerful tools in terms of their perception impact; they are no doubt noticed when they are utilised instead of all the mobile technology most of us feel nowadays bound to use even just to fit-in within a work method and keep up to pace with times.
Beyond the actual content of the notebook (we will be able to tell as the racing season progresses if those notes are contributing to the improvement and success of the team) what really counts from the get  go is the visual impact it has in stimulating the driver and the entire team to focus and ponder upon every single detail. It has also been pointed out that Vettel has spent a lot of time with engineers and mechanics while the new car has been totally disassembled and reassembled, side by side focusing and contributing to develop rapidly a mutual welcoming feeling within the team.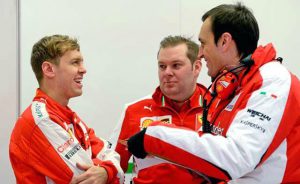 In the past we have had a few other quite evident and successful examples of meticulous approaches to the role of a Formula 1 driver. The late Ayrton Senna developed through the years his legendary career also because of his intense approach to racing. It has been reported by many engineers that worked with him that after testing he was able to communicate corner by corner, almost computer like, all of the reactions and settings of the car, back in his time telemetry was almost not present. He used to spend many hours side by side with the mechanics while they were working in making changes himself had been meticulously marked down on a one page sheet (to note that it all had to be on one page). Intense, focused and side by side work with the team.
The same kind of approach that Michael Schumacher always had in methodically reading, interpreting and making sense of every single detail coming from telemetry data. Schumacher himself used to spend a lot of time side by side with mechanics while they were working to fully understand what was happening and strengthen the comrade spirit. It is a matter of fact Schumacher throughout his career always managed to form around him a strong focused team that markedly contributed to overcome tough and complex times towards achieving top and consistent success.
It is often said that any process of change and improvement begins with actual awareness of reality and a sheer determination to improve it through focused appropriate actions. Vettel appears to take this by heart and no doubt, given also the size of the notebook, he is also making other people to pay attention to it. Time will tell whether this will contribute not only to consistent success but also to a winning overall team spirit.