In 2014, at the Geneva International Motor Show, Porsche officially introduced in World Premiere the Porsche 919 Hybrid aiming to get the german manufactured back to the top of the World Endurance Championship (WEC) and in particular back to the top of the legendary Le Mans 24 Hours won the last time by the official Porsche racing team in 1998.
Framing a context for innovation: the rules
After 17 years, today – June 14 2015 – Porsche has won Le Mans (drivers: Hulkenberg, Tandy, Bamber) within the LMP1 top category. A category that during the last few years has been featuring considerable winning innovation in terms of all sorts of energy efficiencies set as standards by the governing body of the series (FIA).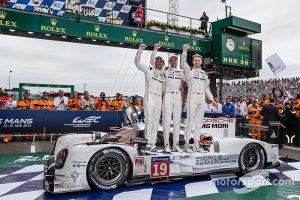 Porsche with the 919 Hybrid has interpreted these energy efficiency rules through the development of an original project balancing several variables in order to fulfil the prescribed overall energy efficiency / high performances flow.The 919 Hybrid has won Le Mans: the 919 Hybrid has to be considered in definitive terms an innovative project since innovation does not flatly exist without success (in terms of problem solution or competitive affirmation – being on a market or a racing track).
Porsche and its historical roots of pragmatic innovation: 12 guiding principles & matching projects
Innovation is quite pragmatic because, in its essence, it springs from results (originality without results it is just creativity not innovation) and traditionally Porsche has been perceived as a household of pragmatic developments that have set a fine winning edge between top notch revolutionary / evolutive technology and a strong focus to take advantage and even set market trends. Quite interestingly Porsche has outlined innovation development within 12 principles that are represented by as many different projects that successfully made (and are making) their marks within the automotive and motorsport context since the late 1930s. This outlining is featured in a document titled Porsche Innovation essentially and mainly inspired by the talent and vision of Ferdinand Porsche. Interestingly the outline touches some key concepts that are part of the work-in-progress book I am currently writing together with two colleagues Fast Track Innovation; concepts that are drawn from different automotive and motorsport contexts. The first two principles are a preamble: 1) It all sources from Creative Ideas 2) born from the Freedom to Experiment. From the 3rd one onward they are associated with a specific project that has been successfully developed by the german manufacturer. 3) Shaping the Future (Project 22, 1934, the successful Auto Union Grand Prix single seater). 4) Grasping Visions (Project 60, 1938, the original Volkswagen that in itself created a successful market segment and identity strongly present still nowadays). 5) Team Excellence (Project 360, 1947, successful Cisitalia Formula One Grand Prix single seater). 6) Establishing Partnerships (Project 356, 1948, successful mid-engined sport car based on a Volkswagen chassis). 7) Fans Instead of Customers (Project 550, 1953, the open top sports car passion of many key popular personalities as for example James Dean – he died in a tragic accident while driving one of these models and this has become part of his legend). 8) Timeless Design (Project 911, 1963, a design that in itself has become an icon still strong after more than 50 years). 9) Radical Renewal (Project 917, 1969, the racing car that has won multiple times Le Mans and that is still nowadays passionately associated with Steve McQueen's Le Mans movie). 10) Networking Innovations (Project 914, 1970, mid-engined production car based upon the active cooperation with other manufacturers). 11) Trusting Others (Project 928, 1977, front engined production car developed with the cooperation of more experienced know-how in the specific front end powered cars). 12) Discovering Strengths (Project 986, 1996, the mid-engined boxer production car developed upon the original combination of key strengths from previous projects). 
What next?
Innovation is a continuos process of development and growth. It is a mindset that is by nature placed ad the very edge of out-of-the-wall creativity and sound, scientifically based, pragmatic knowledge. No doubt that Porsche will continue to innovate and no doubt that the process will take time and focus;  it will be driven by the 'rules of the system' being the development rules set on racing tracks by the racing governing bodies or the rules set for safety and sustainability on roads worldwide.
All of this can be very inspiring for companies of all sorts of sizes belonging to all sorts of different economic fields; the work-in-progress book Fast Track Innovation will describe why and how and certainly will feature today's Porsche 919 Hybrid as an example of an innovation DNA flowing throughout history. Well done to the entire Team Porsche and a particular well done to the incredible – F1 style – consistent drive of Nico Hulkenberg. 
CHECK FOR FURTHER COMMENTS AND UPDATES ON THIS ARTICLE PUBLISHED ON LINKEDIN