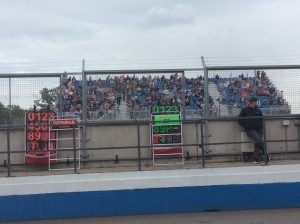 I am currently following (from the comfortable media center above the pit lane compared to the breeze that has been blowing outdoors since early morning) the last day of Formula-e preseason testing in Donington while working on interviews and research relevant to the book FAST TRACK INNOVATION #fasttrackbook .
Going well beyond unique technological challenges
Formula-e, since its very inception, has been driven by focus on sustainability, efficiency and innovation from several points of view that go even beyond the all fundamental technological one. The series has become an example of a new way (better say refreshed, back to original roots) to bring new energy to the relationship among fans and a global Motorsport championship.
As a global Motorsport series it is no doubt more reacheble then many other series and it makes easier for fans to interact with world popular drivers (even former F1 world champions as Jacques Villeneuve) among other competitive drivers that perceive racing here as a way to revamp their image or to develop their career. The process is helped by the fact that the series is becoming ever more competitive from a technical and sporting point of view and at the same time is rapidly multiplying its media global following. Besides watching that starting grid grandstand and quite full in a breeze morning is quite revealing.
Performance, efficiency, entertainment
This championship is driven by a marked continuously renewed focus on factors that need to be integrated dynamically while the bar of relevant standards is being pushed higher and higher: efficiency, performance, entertainment.
This is all very attractive for the automotive and Motorsport community alike for several reasons, all of them having to do with the concept of sustainability through innovative synergic integrations of: visions, resources, cross pollination among various technological fields, talents (even race driving is very much redefined here) and know-how relevant to engineering as well as to anything that pertains to communication and media.
Automotive and Motorsport innovation interplay: Mahindra's case
Mahindra from a corporate point of view is integrating forces with Mahindra Racing on these kind of dynamics with a technological interplay between automotive (Mahindra Reva is one of the very first electric car global projects that now is set in an evolutionary path related to higher performance) and track racing focusing more and more in rising the standards of being dependable, efficient (the Reva project has inspired much of the early and last season work on this) and reaching higher performance within the power cap set by the rules of the series.
On top of this there is the overall key focus on media and communication that Mahindra is generating in relation to projects that at the corporate level aim to define and implement an all new way of looking, creating and experiencing mobility (sustainability, efficiency and practicality are some key stepping stones on this); Mahindra Racing integrates powerfully all of this with a particular focus on developing an higher level of active involvement from fans that at present are for the great majority simply viewers. This goes also to the very roots of an extremely needed and deserved process of Indian Motorsport proper and more widespread development.
All of this will be further developed within the book integrating experiences of automotive and Motorsport projects and activities on a global scale that belong to history, present and future of automotive and Motorsport innovation interplay.
Interviewing Chetan Maini (Reva founder and R&D Head) in Bangalore last January (he is also an active board member and technology reference to Mahindra Racing), Dilbagh Gill (CEO & Team Principal Mahindra Racing) and B.Karthik (VP Corporate Brand Management Mahindra) here in Donington has been a quite unique and inspirational experience that will have a marked influence on the book.
No doubt India should be very proud of the multifaceted and far reaching developments that Mahindra has in place within its visionary path.
CHECK FOR FURTHER COMMENTS AND UPDATES ON THIS ARTICLE PUBLISHED ON LINKEDIN