I find very powerful the Instagram lives organised by Bologna Business School introduced this week by Andrea Pontremoli: he engages friends entrepreneurs and public personalities to share thoughts about what we are going through during these days. It is a powerful way to reset our mental models towards some key foundations that make a difference in terms of a better society and, almost as a consequence, better more sustainable business (in actuality the focus on business itself takes a backseat during these conversation and this is what makes them so powerful in stimulating liberating enlightening thoughts and actions). 
A few days ago Pontremoli engaged in a conversation with Guido Barilla CEO of the world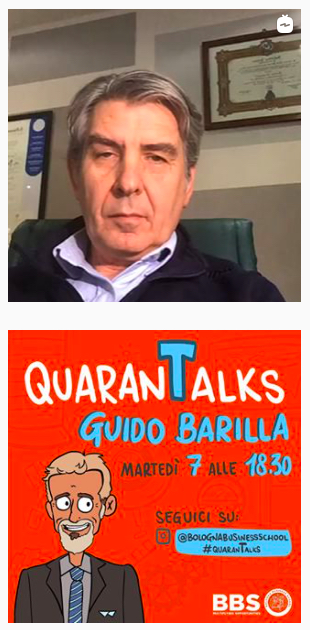 famous food company. The emotionally charged meaningful dialogue focused on key harsh historical paths of change and development that Italy went through in the past while shaping a better future for itself. A strong humanistic commitment to value adding actives surfaced as a key corner stone of sound social and business practices: no matter what kind of external changes and disruptions any organisation, as any community, must always have clear in mind the foundations of vision, mission and values that represent a key reference stepping stone and trajectory of development. 
Yesterday, April 11th 2020, Pontremoli dialogued with Brunello Cucinelli, founder and CEO of the world famous luxury cashmere fashion brand originating from the medieval village of Solomeo in the Umbria region. Cucinelli instantly brought us in a unique almost mystical humanistic atmosphere inspired also by the XXXIII century tower he lives in. He is renown for the historical and philosophical studies he constantly quotes and relates to today's society and business with a mindset of consistent enlightened positivity rooted in the wisdom of his farming roots. The conversation developed on a deep level of thought linked to an inner dimension of awareness and wonder connected to Nature. It was almost comical to realise how many people tried through their comments to steer the dialogue towards 'what's next for the fashion business' 'what's next for business in general', Pontremoli and Cucinelli continued to focus on a much more profound connection to the fundamentals that make anything else happen, change, evolve.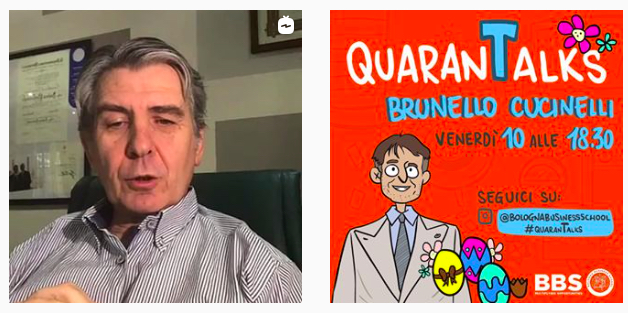 I like to share with you some conceptual notes that I drew from such dialogues; conceptual notes that can assume different meanings to us; yet to me represent some key stepping stones to a renewed afresh sense of reality that historically today we have the opportunity to share and contribute to shape.
Education beyond Training 
The 'Why' beyond the 'How To'
Driven by Hope instead of Driven by Fear
The tremendous far reaching power of being a humble good person
Harmony with Nature beyond Sustainability 
Thanks to the Bologna Business School for the initiative and to Andrea Pontremoli for giving us the opportunity to share such thought provoking moments with his friends. Past and upcoming live conversations available at https://www.instagram.com/bolognabusinessschool/ .