Innovation relates directly to the concrete and effective expression of creativity: creativity that solves problems and suits the market willing to pay for it. Innovation is quite plain and simple from this pragmatic perspective.
In many ways innovation is a trial-and-error process in which many creative efforts need to be developed through given parameters of resources. Parameters and resources that often limit the creative effort and, as a direct consequence, the concrete generation of innovation itself.
Within these kinds of dynamics things are bound to change and change fast, actually they are changing already, within innovation in manufacturing. We are witnessing a 'paradigm shift': conceptually the development of fundamental changes in the way we generate and process ideas to make things.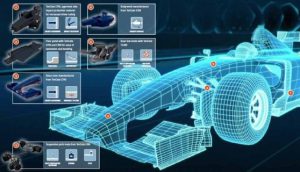 More specifically we are in the midst of what scientists are beginning to call a 'golden age' for materials: decades of scientific research in the fields of physics and chemistry are today coming to fruition into lighter, stronger, more malleable materials, allowing for many more creative developments much easier to implement. The key aspect is that those materials allow for tens of thousands of combinations generating tens of thousands of different materials (according to the current Economist Technology Quarterly: 'New materials for new manufacturing') even 60.000 reached in simulation, bound to become 100.000 within five years. Because of this, scientists begin to talk about the 'materials genome'. Specifically carbon is the material that best suits the role to feed and develop so many different combinations because of its characteristics.
Automotive and Motorsport radical manufacturing changes
As the Economist Technology Quarter points out, the applications are basically endless. Within the field of high-performance automotive, BMW has been investing heavily and purposefully on this and the top performance electric models BMW i3 and i8 show it. In the US a special laboratory, developed through the network of several research centres, has manufactured in six weeks (from design to assembly) a replica of the 1960 Shelby Cobra. Weight 227 kilos made 80% polymer and 20% carbon fibre. On the same wavelength, recently the company Vitesse AuDessus manufactured a replica of the Ferrari F12tdf totally made of carbon fibre with substantial reduction in weight above an beyond the unique looks 'Full Carbon Fiber Body For Ferrari F12tdf Is Drop-Dead Gorgeous'and the inevitable influence on vehicle performance dynamics and possibly even safety. Following a not-too-futuristic development of these changes new 'smart manufacturing materials' are bound to impact Motorsport too. A recent article published on Race Car Engineering 'The living skin' outlines new developments within these 'smart materials': in very elementary terms, materials which sturdiness concurrent to intelligent flexibility (related to the dynamic context) is going to go well beyond the one utilised today on racing cars aerodynamics. The concept of chassis itself might change because of these developments setting whole new reference points and standards in the field of vehicle dynamics. The bodywork itself can increasingly feature the use of composite materials wiring establishing and enhancing an overall vehicle real time computation dynamic source of useful data and information. This might be set to increase performance, safety and the like. All of this eventually is bound to be featured also in mass market automotive production.
Time to use Einstein's true sign of intelligence 
Within this new manufacturing paradigm of 'smart new soft materials' the creative effort itself is turned upside-down: no longer are the materials and their characteristics to set manufacturing capabilities and restrain ideas; are ideas that conceive new realities projecting the use of new materials characteristics, new materials that can be developed in accordance to identified performance and manufacturing specifications. Therefore the concrete innovation exercise is potentially easier to reach and it all depends on the ability to imagine new realities. This is the kind of soft skill that even Albert Einstein envisioned to be a key driving force: 'The true sign of intelligence is not knowledge but imagination'. We possibly are more then ever empowered to pursuit this to the fullest. The journey has just begun, let's pursue it at the very fullest!